The British Virgin Islands (BVI)
Travel to the Caribbean... where it meets the Atlantic. There lies a chain of sixty islands called the British Virgin Islands. With hundreds of secret bays and hidden coves, they have long been a seafarers' haven. Inhabited by Arawak and Carib tribes and later renamed by Columbus, the islands were once teeming with pirates and privateers who preyed on the Spanish galleons bound for Europe with Incan gold.
Today the pirates are no more, but travellers from all over the world still come to this place in the Caribbean to search for the little treasures which nature has hidden here. And be it a barefoot walk along some deserted beach, or a lazy afternoon spent swimming and snorkeling off of a yacht, you are sure to leave the British Virgin Islands with memories to treasure.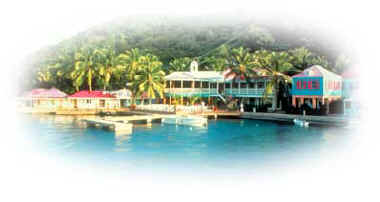 The British Virgin Islands are indeed a special place. The climate is almost perfect. Because of their position within the trade wind belt, the islands have a balmy, subtropical climate. Temperatures average about 85 degrees Fahrenheit. At night the temperatures drop about ten degrees. Because of the difference in rainfall, soil and exposure, the islands have a wide variety of vegetation. There are lush areas where palms and tropical fruit trees thrive, as well as hills spotted with cactus, loblolly, frangipani and wild tamarind. In the valleys, there are brilliant tropical blooms, including hibiscus, bougainvillea and flamboyant. Along the seashores, it is not uncommon to see mangrove and sea grape trees sculpted by the wind.
Protection of the natural beauty of the BVI is a prime concern to residents as well as visitors. It's an effort that extends below the surface of the sea as well.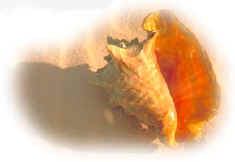 The British Virgin Islands are composed of sixty islands amongst them :
- Tortola : (18,700 inhabitants) Mountain peaks covered with frangipani and sage characterize its southern coast, while its northern shores display white sandy beaches, groves of bananas and mangoes and clusters of palm trees. - Road Town, located on the southern shore, is the busy capital of the BVI, as well as the central administrative and business center of the Territory.
- Virgin Gorda : With a population of about 2,500, is a favorite stop-over for both yachtsmen and land lovers. - More then 20 beaches include the beautiful Devil's Bay - The BVI's most famous natural attraction, The Baths - giant boulders forming a series of spectacular pools and grottoes - is located there.
- Jost Van Dyke : is a small mountainous island of about 150 people, with several lovely beaches.
- Anegada : is a coral island with a small population of 150 people. - It's known for its miles of seemingly endless white sand beaches and the horseshoe reef, which in years past has ensnared hundreds of shipwrecks.
- Other Islands : Norman Island (reputed setting for Robert Louis Stevenson's Treasure Island) ; Peter Island (peaceful anchorages and quiet beaches) ; Guana Island (see below) ; Salt Island ; Cooper Island ; ... and many other smaller islands, which can be visited by small boats.
To help you in your choice or for any other inquiry, please contact the "BVI Tourist Board on Tortola".
So, if you search this small part of paradise, why not choose the British Virgin Islands as your next holidays destination ?
---
As of today, we offer a new complimentary service: free travel brochures with no obligation to purchase anything. - You can order thousands of free tourist booklets, from tourist boards visitors guides, to hotels brochures and flyers from various island professionals.
Don't hesitate to try this exclusive service.
---
Guana Island (BVI)
Guana is a lush 850 acre private island, the 7th largest island in the British Virgin Islands. It is located north of Tortola, just a short boat ride from Tortola's airport on Beef Island. Guests stay in secluded cottage rooms, each with a private terrace overlooking the sea. The interiors are comfortably but not overwhelmingly furnished in a style that comes out of the history of Guana Island, which was once a sugar cane plantation owned by American Quakers.

A day on Guana Island can be filled with a variety of activities for those who relish the outdoors : snorkeling, windsurfing, kayaking, fishing, sailing, tennis, ... Several of the 7 beaches around the island offer good snorkeling, right off the beach, but all offer full privacy.

Guana Island is also a hiking paradise of over 850 acres of nature and hiking trails. Since the island is a nature and wildlife preserve, it has the richest fauna of any island its size anywhere in the West Indies.

As for the service, you'll find it attends to your every wish, while still maintaining your privacy.

Guana Island is an address to keep under your hat. A superb location where you unpack your suitcase with a deep-set feeling of having found the right place. An exceptional place where you come to lose yourself, the better to find yourself ...
---

List of the largest island (except oversea territories) for each European independent country :
Albania <=> Sazan (6 kmē)

Belgium <=> Testerep (?? kmē)

Bulgaria <=> Belene (43 kmē)

Croatia <=> Krk (409.9 kmē)

Denmark <=> Sjaelland (7,031.3 kmē)

Estonia <=> Saaremaa (2,674 kmē)

Finland <=> Soisalo (1,631 kmē)

France <=> Corsica (8,681 kmē)

Germany <=> Rugen (926.4 kmē)

Greece <=> Crete (8,261.2 kmē)

Hungary <=> Csepelsziget (256 kmē)

Iceland <=> Iceland (102,828 kmē)

Ireland <=> Achill (146 kmē)

Italy <=> Sicily (24,465 kmē)

Latvia <=> Doles Sala (21 kmē)

Macedonia <=> Golem Grad (25 ha.)

Malta <=> Malta (246 kmē)

Netherlands <=> Texel (160.9 kmē)

Norway <=> Hinnoya (2,198 kmē)

Poland <=> Wolin (246 kmē)

Portugal <=> Sao Miguel (Azores) (754 kmē)

Romania <=> Letea (1,480 kmē)

Russia <=> Sakhalin (76,400 kmē)

Serbia & Montenegro <=> Ostrvo (60 kmē)

Spain <=> Majorca (3,640 kmē)

Sweden <=> Gotland (3,001 kmē)

Ukraine <=> Dzharylgach (60 kmē)

United Kingdom <=> Great Britain (216,777 kmē)

To be informed about the changes on the site " The World of Islands " and on the islands novelties, do not forget to subscribe to our newsletter.
Subscribe to our free newsletter
For the travel agents, tour-operators, journalists and media professionals, we will soon start a new, free of charge, "Islands information Service". To subscribe to this service :
---

If you are a tourism professional on an island and if you would like have more information about "The World of Islands" professional network, then please, don't hesitate any more and visit the section for the professionals.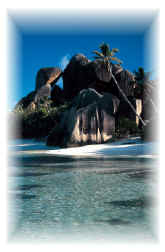 ---
If you have questions, comments, suggestions, or if you need help to organize your journeys, please do not hesitate to contact us : infos@world-of-islands.com.
Alphabetical selection
Geographical selection
Multi-key selection
Search
Our travel guides

Accommodation
Inbound agencies / TO
Transport & Cruises
Other professionals
Find a travel agent close to your home

Health on the islands
Regulations & Traveler rights
Travel warnings & Safety
Weather on the islands
Traveling with kids
Disabled travelers
Traveling with pets
Islands civilizations
Islands habits & customs
Tips & Tools
Discover the islands products
List of Embassies and Consulates
List of Tourism Offices
List of Internet Cafes
List of Islands Public Holidays
Selection by destination
Selection by departure place
Selection by themes
Selection by travel budget
Selection by holiday dates
Selection by holiday duration
Advanced search
All "Special Offers"
Custom-made journeys

Arts of islands
Islands handicrafts
Islands products
Multimedia collection
Press & Magazines
"The World of Islands" goods
Travel gears

Tourism authorities
Tourism professionals
Guesthouse & property owners
Join "The World of Islands"
Announce your releases, specials & products
Add your offers & packages
Advertise with us
The Islands Club
Tour operators & Travel agents
Newsletter for tourism professionals
Journalists & Media professionals
Newsletter for journalists
Announce your releases, specials & products
Add your offers & packages
Advertise with us
The Islands Club
Partnerships & Sponsoring

Job vacancies & Applications
Islands for sale
Islands for rent
Free planning of your journey
"The Islands Club" membership card
Our newsletter
Free brochures of islands
Islands news
Press survey
Learn an island language
Discover the islands products
"The World of Islands" in the media
Our partners

Collaborate with us and receive many valuable gifts
Games & Contests
Virtual postcards
Cook like an Islander
Discover the islands products
Islands travelogues